Be a good American citizen... but don't forget your heritage.
Barrera Wins NC State Contest Inspired by SAC
May 27, 2016 - Jacqueline Barrera won the State of North Carolina Veteran's of Foreign Wars Auxiliary Young American Patriotic Art Contest with her artwork inspired by Lt. Susan Ahn Cuddy. It's a great achievement for Jacqueline and a wonderful honor to have a young woman inspired by Susan. The artwork went to the National Scholarship Competition at the headquarters in Kansas City. It was not selected as the National winner. Nevertheless, Jacqueline's artwork was recognized among thousands of entrees as one of the country's best! We're grateful! Congratulations Jackie!!!!
Chief Petty Officer Frank Cuddy's death day is May 29th. Lt. Susan Ahn Cuddy's first anniversary death day is a few weeks away - June 24th. She lived to be 100. It's Memorial Day weekend and these two US Navy veterans lie in rest side by side. Their story is unique being one about an Irishman born in DC and an American born Korean from Los Angeles who met while serving the in the United States Navy. Not only did they both share their service in the Navy - Naval Intelligence, Cryptography, and National Security Agency operations were their same duties. And, they were both exceptional athletes. Slowly, the details of their service to the country becomes more known. However, they kept so much of their activities secret... just as they were expected and sworn to do. Their individual contributions were above and beyond average duty. They were both leading figures in their units. They both had ability and aptitude allowing them to handle assignments others could not. They were humble and patriotic in the most honorable way. And, they had the strength and courage to set their love above the obstacles around inter-racial relationships and marriage. 1947 was not the most open minded era. They endured... I wonder if there has ever been a Medal of Freedom awarded to a veteran couple. They deserve one!
Susan Ahn Cuddy LACC Alumni Honored with Banner on Campus Wednesday Nov. 18
Korea Times Article Click on LOGO

Susan Ahn Cuddy will be honored by her alma mater Los Angeles City College with a Light Pole Banner on Wednesday Novemnber 18, 2015 at 12 pm reception on the 3rd Floor of the Student Union Building on campus. Susan is one of 44 distinguished alumni of LACC. Susan may have been the first AsianAmerican woman to run a college level sports program. Not only did she play Second Base well, Susan was the Head of Women's Baseball. Her cousin Sadie Lee (Emma Lee's sister) played baseball with Susan and is in the team yearbook picture. Click on Logos to left for more details.




LACC News Release Banner Information Click on LOGO
Chief Petty Officer Frank Cuddy and Lieutenant Susan Ahn Cuddy rest in peace side by side on Veteran's Day November 11, 2015. Quite a story of two US Navy WWII patriots. Their love and courage also endured the social stigma of having an interacial marriage when it was not widely acepted.

Forest Lawn Tribute Section

Hollywood Hills



Memorial Services were held on July 2, 2015 Hall of Liberty Forest Lawn Hollywood Hills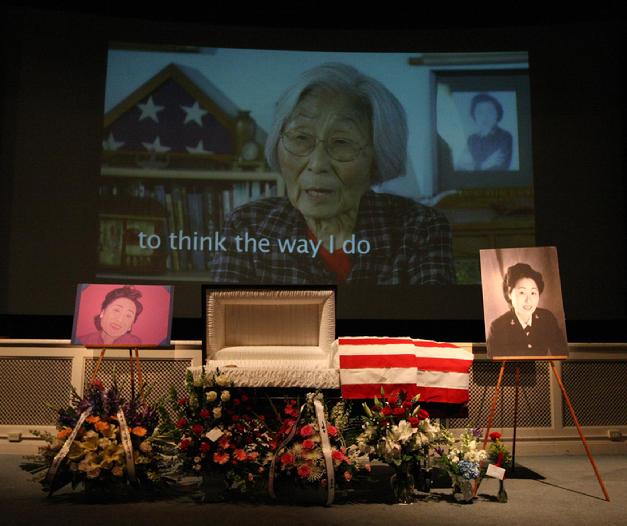 100 years 5 months and 8 days of living life to the fullest. Susan Ahn Cuddy will always be a true role model of meaningful leadership.
Aloha means farewell to thee
Aloha means good-bye
It means until we meet again beneath a tropical sky
Aloha means good-morning
And always to be true
But the best thing Aloha means, is I love you
US Navy Final Salute for Lt. Susan Ahn Cuddy
| | |
| --- | --- |
| Point Mugu Fleet Readiness Center US Navy Honor Guard for Lt. Susan Ahn Cuddy July 2, 2015 Forest Lawn Hall of Liberty | CMDR Bobby Savanh US Navy pays tribute to Lt. Susan Ahn Cuddy July 2 Hall of Liberty Forest Lawn Hollywood Hills. CMDR Savanh and his group shared May 29th with Susan at Point Mugu recognizing her as part of the Navy Family. |
Susan Ahn Cuddy Peacefully Passed Away June 24th 2015 at Home in Her Sleep
Susan peacefully passed away in her sleep at home in her own bed during her mid day nap. It was a shock because she seemed fine that morning. She had just given a talk on Tuesday the 23rd to a group of great college students at a Korean American Coalition Leadership program.
Her memorial service was held at Forest Lawn Hollywood Hills on July 2nd at 11:00 am in the Hall of Liberty.
API Heritage Month US Navy's Diversity Banner May 2015
| | |
| --- | --- |
| | The United States Navy holds a high regard for diversity. SAC's Navy story is one of the most unique episodes in the Navy's history of its ranks being open to all heritages and genders. As part of the Asian Pacific Islander Heritage Month celebration a series of banners highlighting Asian Pacific Islander historic Naval figures is displayed in all Navy museums. SAC's service in WWII is recognized on the 1941-1945 banner. |
API Heritage Month Point Mugu Naval Air Station May 29th, 2015
SAC - APA Heritage Event Port Hueneme SEABEE Museum May 9, 2015
Click on Logo to go to Seabee Musuem

"The presentation will coincide with the museum's observation of Asian & Pacific Islander Heritage Month," said Hanako Wakatsuki, museum education specialist and public programs coordinator. "We are excited to celebrate the rich culture and contributions Asian Americans have made in our nation's history with Ms. Cuddy, who was not only a pioneer for Asian Americans, but for women as well."

Cuddy will be joined by her son, Philip Cuddy, who will offer a visual presentation of his mother's service. Dr. Lara Godbille, museum director, explained the importance of offering non-Seabee and Civil Engineer Corps (CEC) presentation topics at the museum.

"Even though the museum's mission is to tell the Seabee and CEC story, it is important to honor our national naval heritage," said Godbille. "We are happy to present an opportunity for our patrons to engage with a member of the surrounding community who has become such a distinguished aspect of naval history."



Susan appeared on KNBC "Life Connected" for an Asian Pacific Heritage Month Special May 2, 2015
KNBC Crew with SAC. Angie Crouch interviewed Susan. Bob the camerman is also a Navy Veteran.

CLICK on IMAGE for LINK

By

Angie Crouch and Yvonne Guevara

May 2, 2015 Susan Ahn Cuddy was born to lead. Her family was the first Korean family to immigrate to California in 1902, and from the very beginning, she broke the mold. She was independent, athletic - not your typical girl growing up in the 1930s. In 1942, she became the first Korean-American woman in the U.S. military and the first female Navy gunnery officer. She has had such an amazing life that her life story has been portrayed in a play called "Born to Lead," performed by the East West Players, the nation's premier Asian American theatre organization. Age has slowed her down just a bit. She is now 100 years old, but as NBC4's Angie Crouch found out, Cuddy is still as sassy as ever.



Helen Lee Ahn - Susan's Mother
Helen Ahn was born in Pyongyang in 1884. She passed away in 1969.

Helen Ahn was a driving force in Dosan's life and in the Pioneer Korean American community. She worked hard cooking and cleaning in houses and hospitals. She worked in orchards and vineyards. She helped organize the first families in the Korean community. Since she was one of the first Korean women to come to California she knew how to use her experiences to help other women adapt to domestic American life. She was kind of like a social worker and even marriage counselor. She supported the Independence Movement work and the Young Korean Academy program. She was the first president of the Korean Patriotic Women's Association in 1919. She gave her hard earned money to support Dosan's work as an activist and reformer. And, she raised the five Ahn children, mostly by herself. She did all this without complaining. She saw her sacrifices as her duty to her husband, her family and her country. She remained a Korean citizen. Since all her children were born here and US citizens, she made sure they participated and voted. Helen Lee Ahn was a courageous strong woman. She is an important historical figure in the foundation of the Korean American community in the United States.






1907 - Helen Ahn and son Philip in Riverside. Dosan had gone back to Korea for the Shinminhoe.

1941 - Los Angeles - Helen Ahn with her five children: R to L Soorah, Helen, Soosan, Ralph, Philip and Philson.
Born to Lead: the Susan Ahn Cuddy Story
Final Performance 2015
Born to Lead East West Players Theater Billboard

It is amazing what affect an awesome story has on people. The audiences who attended the performances of the East West Players Theater for Youth play Born to Lead:The Susan Ahn Cuddy Story were affected. The cast, crew and people at EWP were affected. It seems almost everyone from grade school to gray hair were changed for the better by the story they expereinced on stage. The audience at today's final perfromance was lucky to be with Susan herself in the theater. .. making emotions run high.

One of the key elements of the postive affect is the truth of the story. SAC's life of challenges and accomplishments seems like a Hollywood story. Nope! SAC grew up in the Bunker Hill area just up the hill from the theater. This is the area where this woman began a long life of perserverance and achievement. This is also where SAC dealt with many dissapointments... which never became obstacles. And, the details woven into the script by the writer, expressed by the director and brought to the audience by the actors are very real. Seeing this story on EWP Theater stage makes the impact of SAC's legacy stronger than one may think.




Kathleen Aprk as Susan Ahn Cuddy and Rich Lee as Dosan Ahn Chang Ho and other roles.

Jennifer Chang Director; Vivian Keh-Hue Writer; Kathleen Park; Rich Lee, Marilyn Tokuda EWP Arts Education Director
Original Book Cover 1995

On June 20 I received a few phone calls regarding Hungsadan book copying issue.

I understand the HSD claims they have all legal rights to do as they please with book. It would be more supportive if they provided the documents that prove this is the situation.

I don't have any control of what the HSD does with the book. They may sell it or give it away. That is their business.

My concern is I cannot imagine any effective reasoning for removing my mother AND DOSAN'S daughter's introduction from this book. If it wasn't a meaningful part of the book why did the writer and publisher ask Susan Cuddy to write it? She took her time and invested her feelings for her Father and her family history to promote the work of the author and the story of her FATHER.

It seems a respected person with Susan Cuddy's good standing all over the world - among ALL people not just Koreans - is a benefit to the book. The HSD should write an explanation just as they were explaining their actions to Susan Cuddy face to face and see if it makes any sense.

I don't think it's good the HSD removed her introduction. If people knew it was originally part of this book the HSD copied - the public might have a different opinion. It is hard for anyone to know since the HSD is presenting it like it is a FIRST Edition new book. Taking the author's name off the book doesn't make any sense, either. It is not transparent

I don't think it is an example of Dosan's teachings. I imagine Susan's mother Yi Hye Ryon would NOT approve of this behavior. The current HSD behavior is not inline with the standard operating procedure of the HSD according to the members' behavior Dosan spelled out when he organized the academy.

As far as I am concerned t's wrong any way the HSD squirms around coming up with an explanation of removing Susan Cuddy's writing that was included sine 1995 when that original First Edition appeared.




2015 New Cover of copy
All Content is Property of Philip Cuddy
Copyright 1997-2020